The Prosecution Role
Under the Constitution of the Falkland Islands, the Attorney General is responsible for public prosecutions of all allegations of crime. The Attorney General delegates the day to day prosecution work to Crown Counsel (Prosecution).
How does a prosecutor decide whether to prosecute someone?
When deciding whether to prosecute for an offence, the Code for Crown Prosecutors is applied. The Code requires the prosecutor to answer two questions in what is known as the Full Code Test:
Is there sufficient evidence for a realistic prospect of conviction?

Is a prosecution required in the public interest?
These questions must be answered in this order; if there is insufficient evidence, that is the end of the case, no matter how serious or important it may be, and we do not go on to consider the public interest.
Is there enough evidence to prosecute?
When looking at the evidence, we must decide whether it can be used, is reliable and credible. A "realistic prospect of conviction" means that a court, properly directed in accordance with the law, will be more likely than not to convict the defendant of the offence alleged. This is a different test from the one that criminal courts themselves must apply. A court can only convict a person of a criminal offence if it is sure of their guilt. This used to be known as "beyond reasonable doubt".
Is it in the public interest to prosecute?
If there is sufficient evidence to prosecute, we must then decide whether a prosecution is needed in the public interest. We balance factors for and against prosecution carefully and fairly. Some factors may increase the need to prosecute but others may suggest that another course of action would be better. A prosecution will usually take place unless there are public interest factors tending against prosecution which clearly outweigh those tending in favour.
What actions can a prosecutor take?
If there is insufficient evidence to prosecute, we will decide that no further action should be taken or ask the investigator to carry out further inquiries to gather more evidence. When there is sufficient evidence but a prosecution is not required in the public interest, we can decide that no further action should be taken or that a warning or caution is a more suitable alternative to prosecution.
What if the police need a decision in respect of a person in custody, but all of the evidence is not yet available?
In some cases, we can authorise a charge without sufficient evidence for a realistic prospect of conviction. This is known as the Threshold Test; it is only applied when further evidence is expected to become available soon afterwards and the suspect is believed to have committed an offence and would likely be denied bail by the court if charged. If the expected evidence to support a prosecution does not become available within a reasonable time, the prosecution will be stopped.
How a prosecutor conducts prosecutions:
Crown Counsel (Prosecution) will conduct the case, which may include preparing for court hearings, disclosing evidential and unused material to the defence and presenting the case in court. They act on behalf of the Attorney General from the first hearing through to conviction and sentencing, and in some cases appeal.
All prosecutions are kept under review and stopped if the Full Code Test is no longer satisfied. This can happen if new evidence or information becomes known during a prosecution. We act impartially in all cases. We ensure that there is fairness to victims, witnesses and those accused of crime and act, at all times, in accordance with the Constitutional rights of everyone in the Falkland Islands. We do not act directly on behalf of the public but ensure that all cases are prosecuted robustly and without fear or favour.
Appeals
If a person convicted of a crime appeals against their conviction or sentence we will consider the grounds of appeal. If the appeal is opposed, we will assist the appeal court in reaching a fully informed decision by making legal submissions and presenting relevant evidence. We act impartially but, where necessary, will make robust legal submissions where it appears that an appeal is without merit and should not succeed.
The Attorney General will, in rare cases where it is necessary to do so, take steps to ensure that appeals are heard where a defendant has not appealed but there is new information available to suggest that the safety of their conviction is questionable.
Working with others
We work with various departments to prosecute offenders, achieve improvements in the criminal justice system and to meet new domestic and international challenges of crime. We deal with all non-military criminal offences committed in the Falkland Islands and its waters.
The Principles We Follow
We are committed to providing a high quality prosecution service to both the people of the Falkland Islands and our Government colleagues and apply the following principles:
We will make decisions without bias or discrimination.

We will act with integrity and objectivity.

We will apply good judgment and legal knowledge.

We will be open and honest with our criminal justice partners and the public.

We will treat victims and witnesses with respect and courtesy.

We will treat all defendants fairly.

We will be accountable to Members of the Legislative Assembly and to the public.

We will work with our criminal justice partners to maintain public trust and to provide an efficient criminal justice system.

We will maintain high standards and welcome constructive criticism and will respond to it positively.
Prosecution Data for the Year 2021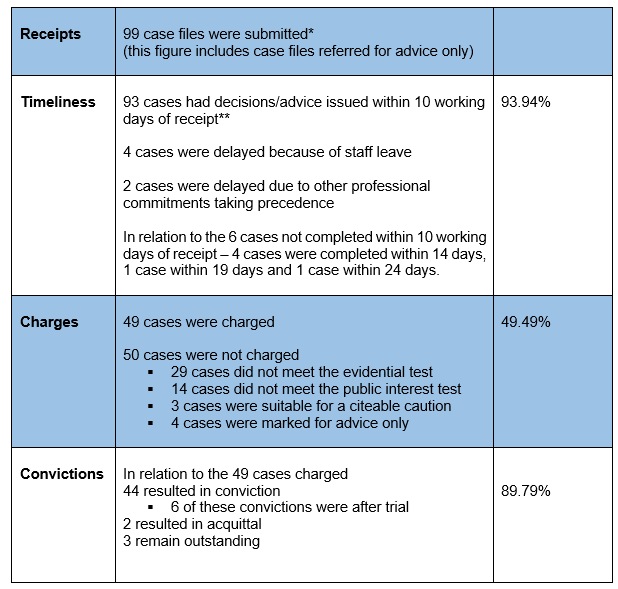 * This figure represents the number of case files rather than the number of individual suspects. A single case file may refer to multiple linked suspects.
Where the case file resulted in at least one charge for one of the named suspects the case has been recorded as having been charged.
** 10 working days is a key performance indicator used internally by the Prosecution Service.