Laboratory Services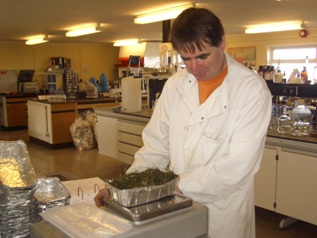 The Department of Agriculture has a large and well equipped laboratory. It is the responsiblity of the laboratory for the processing of all soil and animal feed samples, along with faecial egg counting (FEC).
Soil samples are analysed for a wide range of nutrients including NPK (nitrogen, phosphorous and potassium), trace elements and exchangeable cations (calcium, magnesium, potassium and sodium).
The laboratory assists with the preparation of fish/squid samples for bacteriology tests. These samples are carried out by the public health laboratory at the Stanley hospital.
Fish samples are also sent to the UK laboratories of the Government Chemist for heavy metal/PCB tests.
Grass sampling work carried out by Gordon LennieThe laboratory also provides support to the Veterinary Services section with animal disease diagnosis and runs tests such as haematology profiles on blood samples, preparation of blood for biochemistry screening at the hospital and parasitological testing of faeces samples (mainly sheep and cattle).