Saladero Farm
Saladero is comprised of a total of 2,023 hectares and is currently running the National Stud Flock and the National Beef Herd, under the Jim Gerrish managed intensive grazing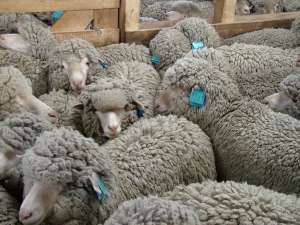 system to optimise pasture production and animal productivity.
Following several workshops with grazing management consultant Jim Gerrish, the Department has been fine tuning its rotational grazing system to maximise pasture growth and subsequent livestock productivity. Paddock records are kept so management can be reviewed and changed as required. Water has been an issue for some paddocks at Saladero, this has been addressed by identifying water holding areas and then excavating holes which fill up in winter.
Saladero has been utilised in recent years by a visiting PhD student investigating the effectiveness of legumes in fixing nitrogen in Falkland Island soils, initial findings are encouraging. A grass/legume trial has been in place for over 10 years which allows us to monitor the long term persistence of these species.
Saladero is undergoing a number of changes to make it more effective as a research and development and demonstration farm as well as being the home of the National Stud Flock (NSF) and the National Beef Herd (NBH). The DoA holds an annual ram sale in March, animals usually for sale are shearling rams and ex elite mature rams. Saladero also offers lease bulls on a yearly basis.
The NSF has reached the genetic goals set 5 years ago of having an average micron of 22; an average mature sheep greasy fleece weight of 5 kgs and improved carcase characteristics (mature live weight of 45kgs). This has been achieved through using an index to select sheep on all characteristics simultaneously and to ensure that as micron was reducing body size (carcase characteristics) and weight was increasing.
Recently a new parameter of faecal egg counting has been introduced to select NSF Polwarth rams that are resistant to internal parasites (worms). This caracteristic will be of great value to the organic farmers.
The NBH has been relocated back to Saladero to make it more readily accessible for farmers to visit and so that birth weights and other performance data can be more readily collected. For more information on the National Beef Herd, please visit the NBH page.
If you are interested in visiting Saladero please contact the Department of Agriculture, on 27355 to make an appointment.

Subcategories