About Us
The Falkland Islands Fire & Rescue Service is a branch of the Falkland Islands Government Emergency Services. Comprising of 5 full time staff and approximately 30-40 retained firefighters, FIFRS provide a variety of emergency services including the following:
Domestic Firefighting
Wildfire Firefighting
Road Traffic Collision Rescue
First Responder Emergency Care
Search & Rescue
Community Awareness Projects
Charity Support
Animal Rescue
Rope Rescue
Haz Mat Management
Community Assistance
At the time of writing FIFRS have in service the following vehicles:
Domestic 1 Scania (F2213)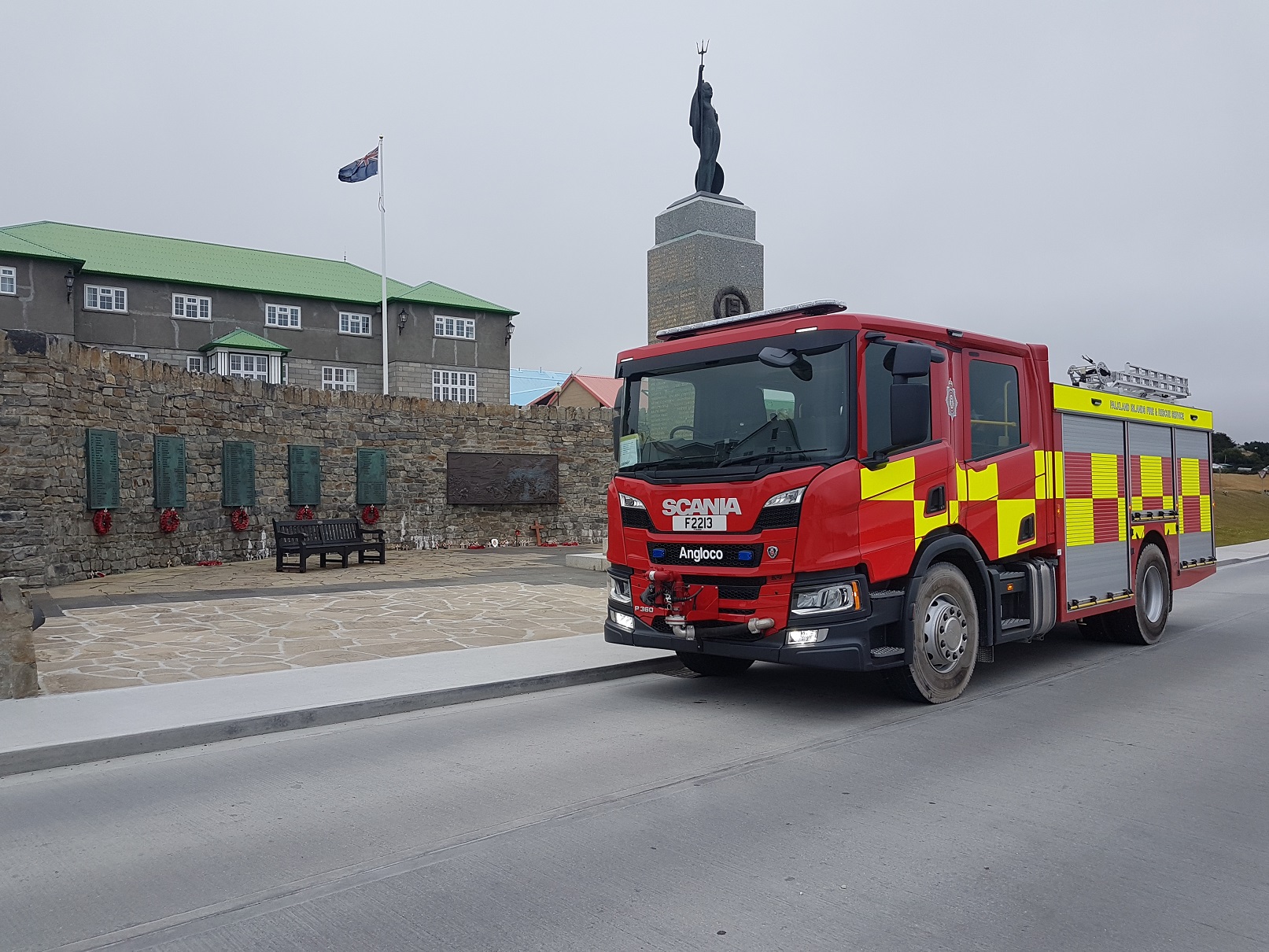 Domestic 1 is the newest addition to the FIFRS fleet, unlike the dedicated Domestic Appliances, Domestic 1 is a hybrid, and is fully equipped to deal with domestic fires, with two high pressure hoses, 45 and 70 mm hoses and a front mounted monitor the appliance also has enhanced firefighter welfare facilities. The appliance also carries 4 breathing apparatus sets and emergency care equipment along with Holmatro dedicated cutter and Spreader, and other equipment such as a Positive pressure fan which are all battery operated. Domestic 1 is also used for helicopter medivac support and carries 3000 Ltrs of water and 440 Ltrs of foam.
Domestic 2 Sabre (F1736) / Domestic 3 Sabre (F1635)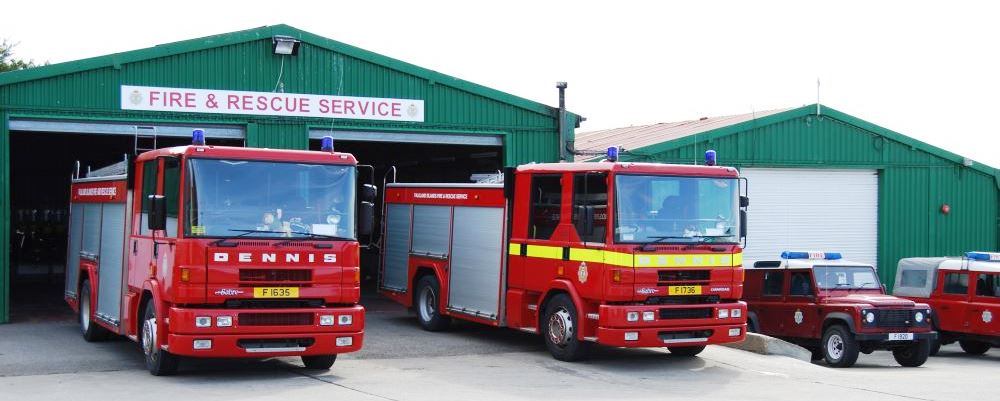 Domestic 2 and Domestic 3 are both tasked for domestic firefighting within the Stanley area. They carry both water and foam with capabilities to pump from hydrants or other bodies of water. They both carry hazmat kits, emergency care kits, SWAH equipment and in the case of Domestic 2, chimney fire equipment. Each truck carries 4 BA sets, a 10.5m ladder, a roof ladder and various mobile lighting equipment.
Rescue 1 Landrover (F1946)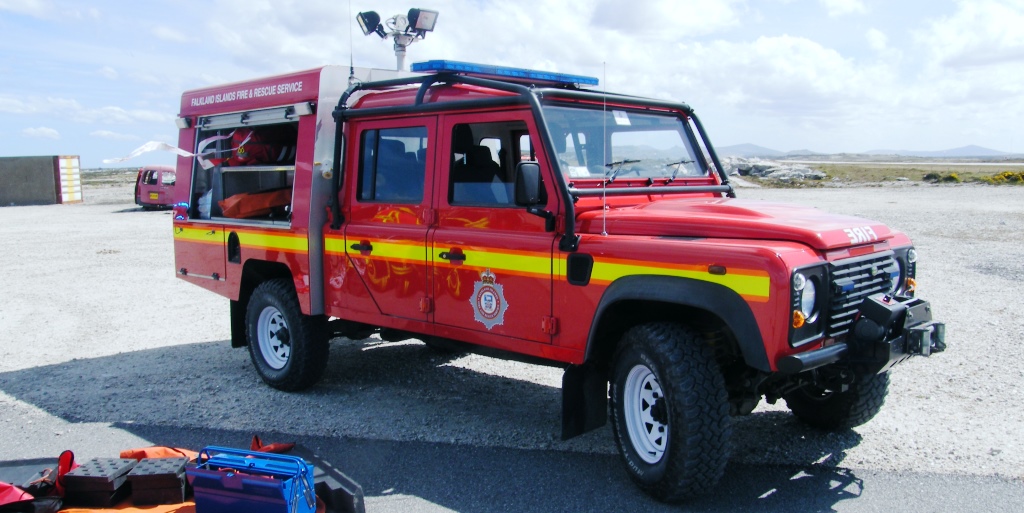 Rescue 1 is a dedicated RTC first response vehicle with 4X4 capability. Rescue 1 carries a full compliment of RTC equipment including hydraulic cutters, spreaders, stabilisation kit, lifting equipment, glass management kit, emergency care equipment and casualty extraction kit. Rescue 1 is a modified landrover and carries a maximum of 5 personnel. Rescue 1 is usually first on scene to any incident with a casualty carer usually followed swiftly by Rescue 2 with a much larger compliment of equipment.
Rescue 2 Scania (F2069)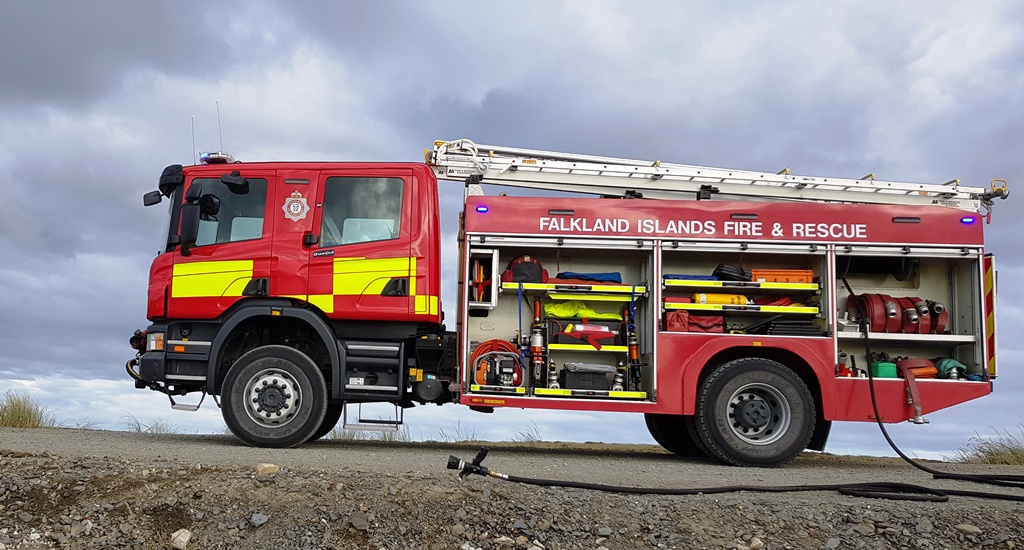 Rescue 2 unlike the dedicated Domestic Appliances, it is also a hybrid and fully equipped to deal with domestic fires, with two high pressure hoses, along with 45 and 70 mm hoses and a front mounted monitor. It carries 4 breathing Apparatus sets and emergency care equipment. Rescue 2 is also equipped with Road Traffic Collison equipment, therefore giving it the capabilities to operate at domestic incidents or attend Road Traffic Collison's. It carries 2700 Ltrs of water and 420Ltrs of foam.
Rescue 3 Landrover (F1512)
Affectionately known in the FIFRS as the "Firefly", Rescue 3 has 4x4 capabilities and is the oldest vehicle in the fleet, it carries 440 Ltrs of water and carries some extra stabilisation equipment and is tasked along with Rescue 1. Though old, she has a V8 under the hood, making her a speedy ride when required.
BV 206 Hagglunds (F2070)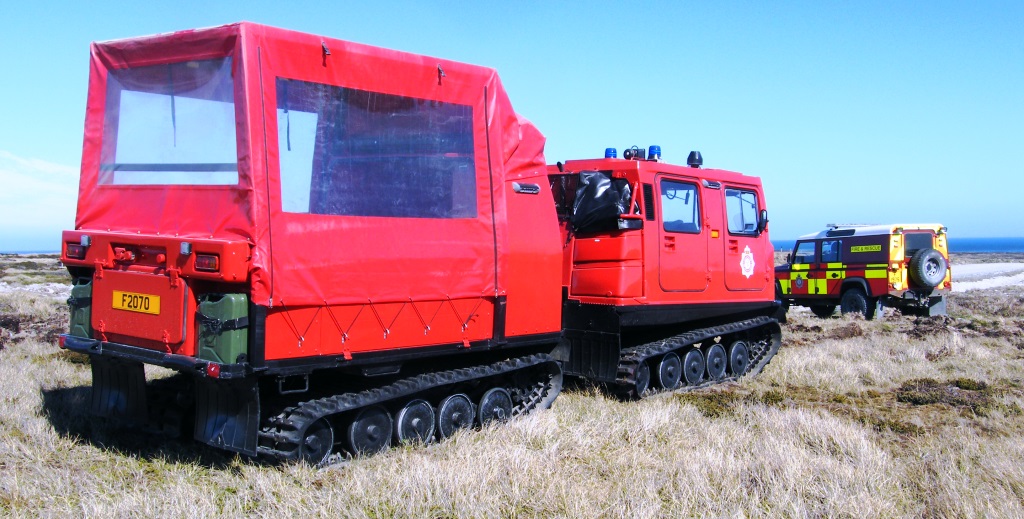 Another fairly recent addition to FIFRS is the Fire BV. She is an all terrained tracked vehicle capable of carrying personnel and equipment across the difficult terrain of the Falklands with ease and speed. The Falklands is a combination of boggy terrain with stone runs and rocky inclines. The Fire BV makes easy work of all terrains and is very useful for equipment supply for wild fires and search and rescue operations.
Fire Landrovers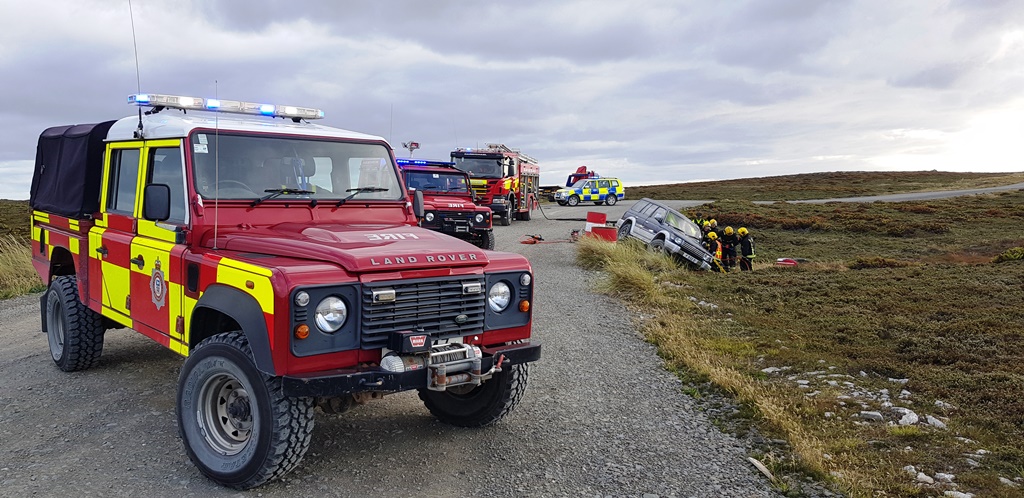 Finally each of the full time staff has a dedicated fire landrover totalling in 4 landrovers. These landrovers are the first on scene at any incident carrying the incident commander and often a casualty carer. Each landrover has a full emergency care kit, 4X4 capability and a winch. All the landrovers have Puma engines and are capable of covering vast distances cross country or via our clay road system.