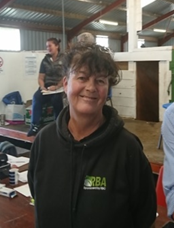 Lucy Ellis | Agricultural Adviser
Email:

This email address is being protected from spambots. You need JavaScript enabled to view it.
Having worked for the Department of Agricultural for 25 years and counting, I have experienced the most amazing range of jobs and met and worked with a great array of people, from staff, farmers, consultants and many, many others and it has been an absolute pleasure (mostly!).

My main responsibilities are to audit the Quality Falkland Wool Accreditation Scheme members and, on behalf of Australian Certified Organic (ACO), audit our organic clients. I oversee the core and grab sampling operation as a fully accredited New Zealand Wool Testing Authority (NZWTA) Core Sampling Officer plus train DoA and contract staff up to IWTO/NZWTA standards. We offer a sheep ultrasound pregnancy diagnosis service (scanning) which I started in 2002 after attending training in New Zealand plus I train those wishing to learn the skill. As well as offering the core/grab sampling service we also offer a mid-side sampling service in which growers have the choice to have their samples sent to NZWTA for testing or to run through our OFDA2000 testing machine which was set up 2019 and I now train staff in the testing process. I also oversee the annual Artificial Insemination Programme (AI) which is usually just sheep but can sometimes include cattle. We employ Mic Seal, Genstock, Aus, who is a veterinarian but also a top class AI and Embryo Transfer (ET) specialist to do the programme, Mic has now been coming to the islands for this programme for nearly 20 years and knows the farmers here better than I do!

I have recently been promoted and am keen to start with some new objectives one of which is to talk with wool growers about their breeding objectives and genetic goals plus increase the knowledge and skill base for wool classing and fleece preparation.

I am very heavily involved with the National Stud flock which lives on the DoA farm at Saladero. This involves deciding, with others, the genetic direction of the flock, collecting and processing DNA samples to generate ASBV's, stock selection based on objective and subjective criteria as well as running the annual Saladero Ram Sale.

I have Diplomas in Agriculture and Agribusiness Management, a Tectra Certificate in Wool Technology, Soil Association Certificate in Auditor Training, Certificate in Sheep Ultrasound Pregnancy Diagnosis from Vet Services (HB) Limited, Waipukurau, New Zealand, am an accredited auditor for Australian Certified Organic and am the accredited NZWTA Core Sampling Officer.